Home Security: More Uses Than Just an Alarm
Most of us have become familiar with home security systems by now. It is getting more common to have one protecting your home. However, most of us are familiar with just the basic facts, such as an alarm goes off when a door or window opens with an armed system. Or, an alert pops up on your smartphone when your motion sensor camera detects activity outside. The FBI reports that in 2019 property crime resulted in losses of $15.8 billion. This statistic shows that despite the increase in home security systems, there is still a real threat of being a victim. Let's dig a little deeper and see what other not so popular facts surround home security.
Delivery Service
Especially during this pandemic, how often are we shopping online and receiving packages at the door? Adding to this scenario, how common are porch pirates in your area? Amazon offers a service to deliver your packages inside your garage. When you are checking out, you choose In-Garage delivery. Then, using the app and a compatible garage door opener, you get an alert that the driver is there. You use the app to open the garage door for them and close it when they leave. In addition, if you have a smart door lock and a video doorbell, you might be able to catch the delivery man and unlock the door for him to place the package just inside the step. You then lock the door back up, watching the whole thing on camera.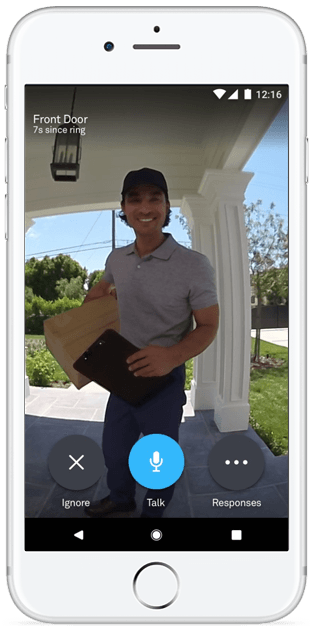 Pet Safety
Have you heard about geofencing? It is an invisible barrier or perimeter around your yard. This barrier works with your smart home security and triggers programmed devices within its area. For example, when your car pulls up to the house, it turns on the programmed lights, adjusts the thermostat, turns on music, etc. Geofencing can also alert you when the pet runs out of the yard to chase that squirrel. Now, some companies are going a step further and offering actual collars with GPS tracking.
Fire Safety and More
As smart homes get smarter, so do we. Homeowners are very forward-thinking when it comes to finding new ways to use their home security systems. Many have mentioned that they have programmed their smoke detectors with their smart home security. So, when smoke is detected, it not only triggers a loud alarm, it will also turn on all the lights in the house. This is a good safety idea so that there is no tripping or falling in the dark. Also, this idea is good for the carbon monoxide detector. In addition, many people have become immune to car and house alarms. Because of this, people are programming their security alarms so that when it goes off, all the lights inside and out start flashing. This will definitely draw attention from the neighborhood and send an intruder running.
Not Just Windows and Doors
When you put a home security system in your home, door and window contacts are standard. But, did you know that you can put them on any door, drawer, cabinet, or other space you want access limited? Since they are wireless and low profile, you can discreetly place them in various spots. Especially if there are children in the home, there are areas that you want to keep them from in order to stay safe. For example, some homeowners use them on medicine cabinets, gun safes, liquor cabinets, basement doors, and any other moving drawer or door. When one of these areas is accessed, it will send an alert to your smartphone. If you have indoor cameras, you will see what the activity is that triggered the alert.
Home Security Systems Today
As you can see, there is really no limit as to what home security systems can do for your today. True Protection offers the latest technology for home security, along with smart home additions that give you complete control and access at all times. Give us a call today and let us know what your ideas are for keeping your home not just safe, but convenient. We will design the perfect fit for a security package that works just for you!