Our Commitment to Excellence
Our reputation as the premier provider of security system products is largely due to the experience of our dedicated staff. Everyone, from your security system consultant to your installer, is fully licensed and certified in their profession. With decades of combined experience, our staff collaborates to design and install the customized system that fits all your needs. Why People Like You Choose True
We Don't Oversell, We Educate.
Most security companies will try to wow you with low monthly rates, along with low quality equipment. They'll try to bait and switch you without actually caring about your specific needs. Our True Protection team delivers the right system with the right answers. We often get customers who have a vague idea about their needs, and we take it upon ourselves to lead them in the right direction.
Custom security is our forte, contact us to learn more.
The Latest Technology at Your Service
Don't count on outdated systems with unreliable connections to the central station. Wi-Fi connections, phone lines, and older network-based monitoring platforms are easier to bypass as an intruder and susceptible to forces of nature.
True Protection installs cellular security systems equipped with GSM cell units. Our monitoring allows for total mobile control with a dedicated connection to ATT or Verizon.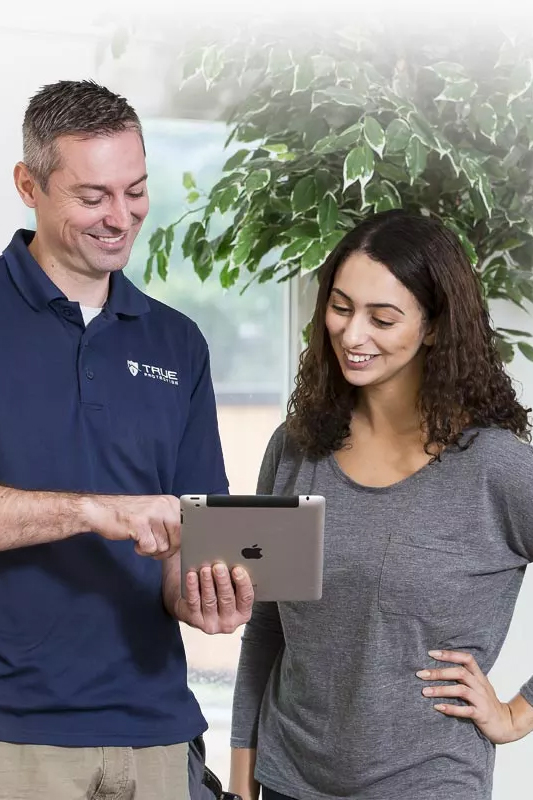 I have been using True for the last 2 years, and they are amazing! They take you through everything and always there if you have any questions. Amazing customer service. Beautiful "Apple-esque" alarm system. Can't say enough good things about them.
True is AWESOME! They have wonderful customer service & quick installation. We used many name brand security systems in the past, but none have given us the one on one attention that True Protection has provided. Thank you for keeping our family safe.
This wireless system works very well, is very easy to install, and very user-friendly. The price is very reasonable, and the service is amazing! What more do you need? I never write reviews, but I felt I had to do it for this one! WHAT SHOULD YOU EXPECT?
The True Protection Process Explained
Start with a Consultation
Begin your experience with True Protection with an over-the-phone consultation. We're also available through text, email, or any other messenger app we use (Facebook, Yelp, etc.). The first phone call is for critical questions to help us evaluate your needs.
Recommendations and Solutions
After a thorough understanding of your needs, we develop the most effective solution for your home or business. Your security expert will walk you through his recommendations, product by product and service by service.
Any questions you may have will be answered with care and consideration. Once your package is designed you will be presented with the price and scheduled for an installation. Certain projects are more complex and require a free on-site consultation, usually 30–45 minutes long.
Once your installation is scheduled, you will receive all documentation through email. Documents vary by situation, but usually cover specifics such as; contact information, equipment list, terms, etc.
Verification and Installation
On your installation date, your technician will arrive within the accurate window provided. They will be sure to verify the desired locations of devices with you before beginning. After preliminary plans are verified, your technician will install your security system.
Learn About Your New System
You'll receive a thorough tutorial of your new system after installation is completed.