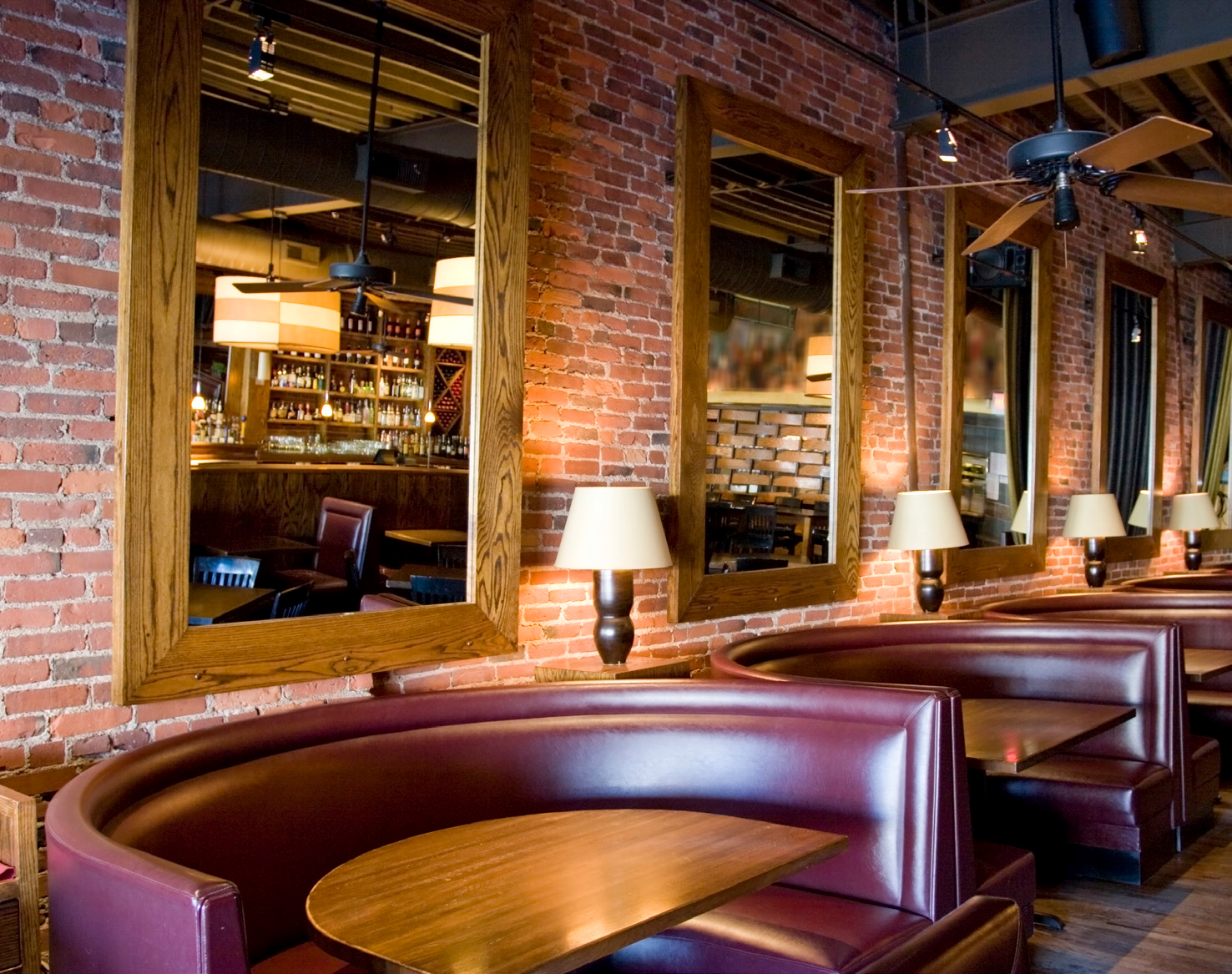 Empowering Smarter Small Businesses
Securing your small business is key to its growth and success. Our security systems and cameras provide 24/7 surveillance and real-time alerts, ensuring your assets, employees, and customers are always protected. Easy-to-use and scalable, our solutions adapt to your needs as your business grows. Invest in a safer future today with our small business security systems.
Theft Prevention
Maintain constant surveillance over storage areas holding temperature-sensitive items and be ready to take immediate action to prevent any losses.
Employee Accountability
Monitoring workplace activity helps to ensure employees are productive, responsible, and adhere to company policies.
Remote Monitoring
Stay connected to your business from anywhere, enabling you to make informed decisions, respond to emergencies, and maintain overall control.
Employees coming to work late or leaving early can cost businesses around $2,279 per year.1
1 Parks Associates, Alarm.com Medium and Large Commercial Business Survey 2021
Get protected with industry leading security, automation & service? Call now or fill out the form to get started.
Highest Quality Equipment
5-Diamond Alarm Monitoring
Small Business Security Camera Systems
Video cameras can be a game-changer for business security. They can help stop theft, violence, or other problems that can happen when you're dealing with the public.
Our cameras are tough. They can handle all kinds of weather and work both day and night. You can even link them with your cash register to track any missing money and spot potential thieves in your team.
We can create a system that tackles your main concerns. This could help you save on utility bills, reduce losses, and run your business more efficiently. Plus, having a security system with cameras can make your business five times less likely to be broken into.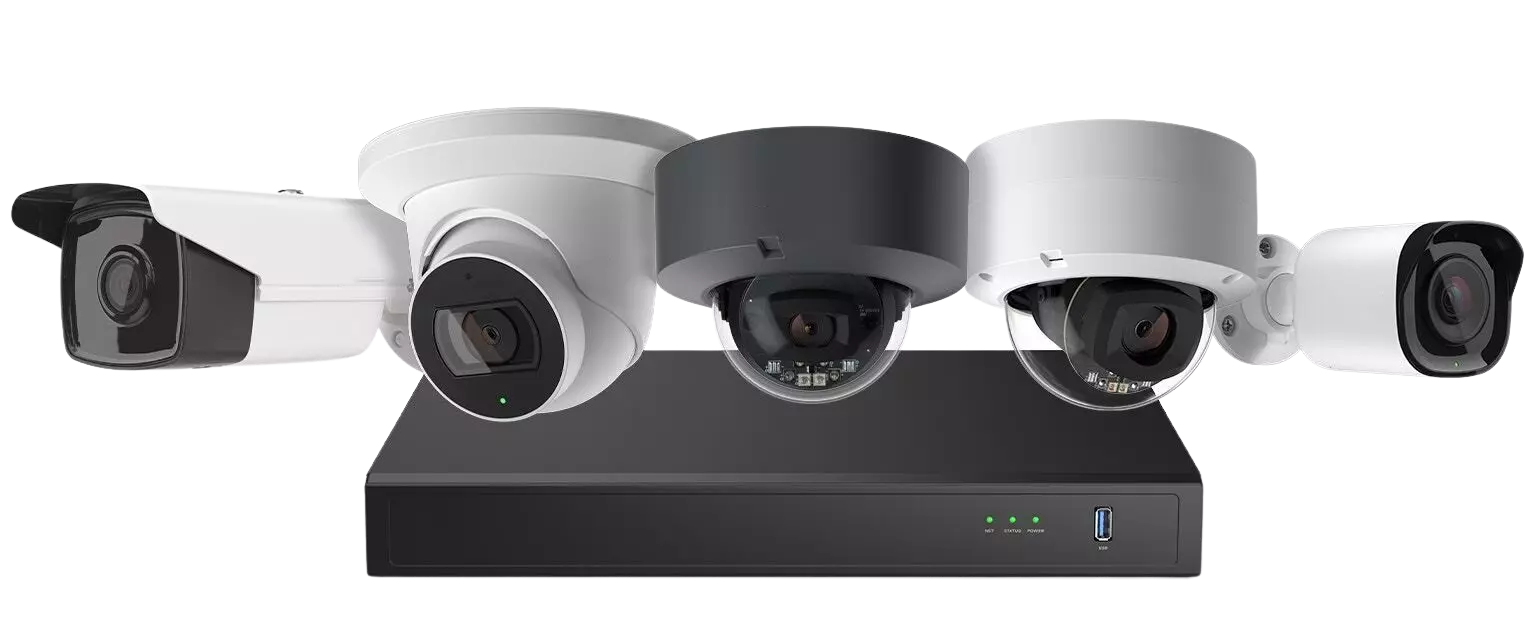 Hassle Free Surveillance
Watch live or recorded videos from anywhere, anytime through your web dashboard or app.

Share video clips as simply as sending a text message.

Constant video health monitoring ensures your cameras are always working and recording.

Our secure cloud storage remains intact even in case of fire or flood.

Quickly locate important video clips by searching your round-the-clock video timeline for alarms, detected movements, opened doors, and more.

Scare off intruders with Perimeter Guard's loud noises and flashing red light.

Get notifications when people or vehicles enter your property with the help of video analytics.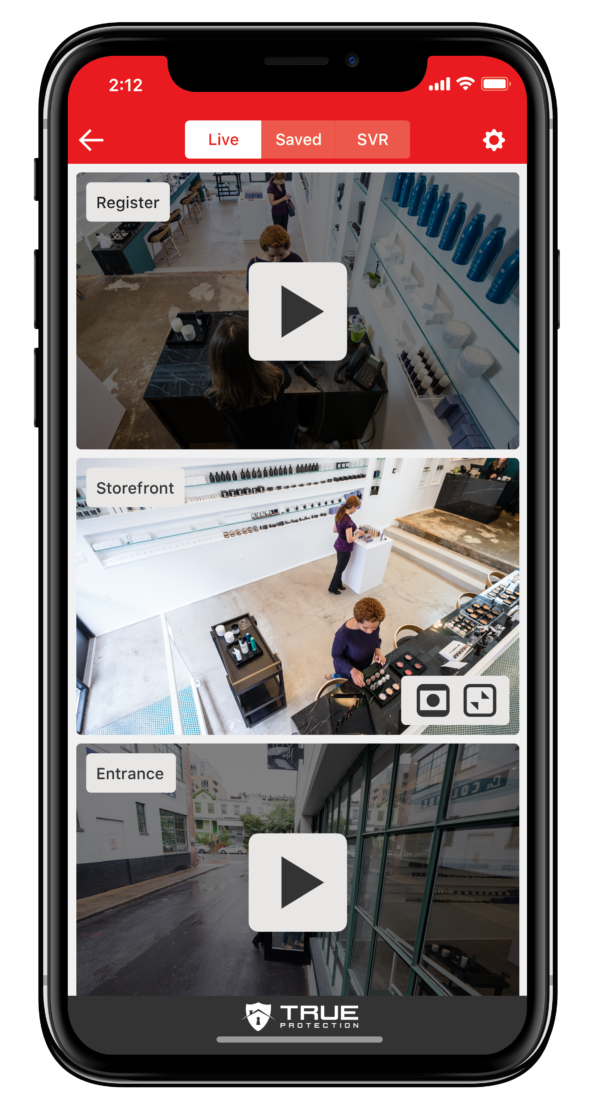 Small Business Access Control Solutions
An access control system for a small business is like a digital key system. It lets you control who can enter your business or certain areas within it. This keeps your workplace safe by protecting important areas like where you keep valuable items or sensitive information. Plus, you can keep track of when and where your employees are going in your business. This not only boosts security but also helps your business run more smoothly.
And the best part? You can manage all these right from your computer or smartphone. It's a simple yet powerful way to increase safety and efficiency in your small business.
Intuitive & Efficient Access Control
With a Cell Connector, avoid network connection issues and ease the installation process.

Replace keys with our smart app or web dashboard to lock and unlock doors from anywhere.

Improve security and convenience with features like siren activation, remote gate opening, and more.

With Mobile Credentials, employees can unlock doors using their smartphones.

Easily add or remove lock control and user codes for enhanced security and control.

Minimize false alarms by automatically disarming your alarm when your business is unlocked.

Quickly find video footage of access events from your access timeline.
Eyes on Every Location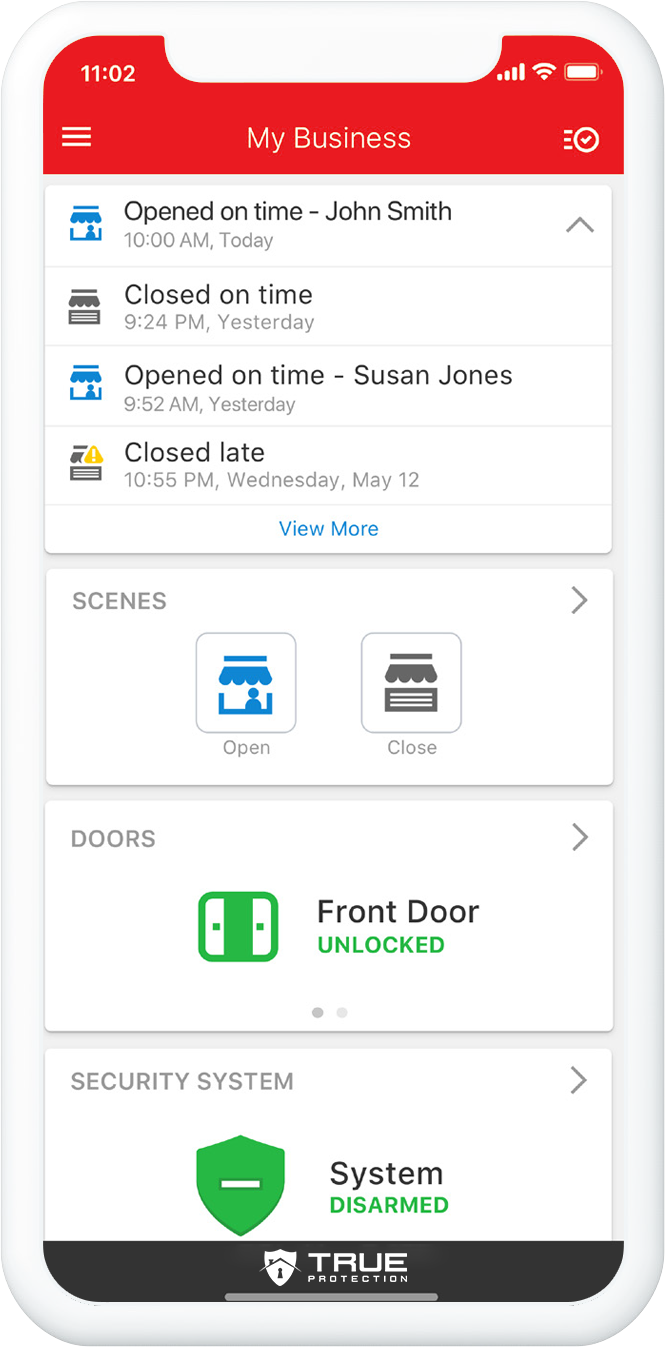 User-Friendly
Manage everything in one place with our Enterprise Dashboard's straightforward interface. Plus, with our convenient mobile app, you can check in on your properties from any location, at any time.
Join a Trusted Community
Over 600,000 businesses put their faith in our cutting-edge technology to safeguard their properties, personnel, inventory, and more.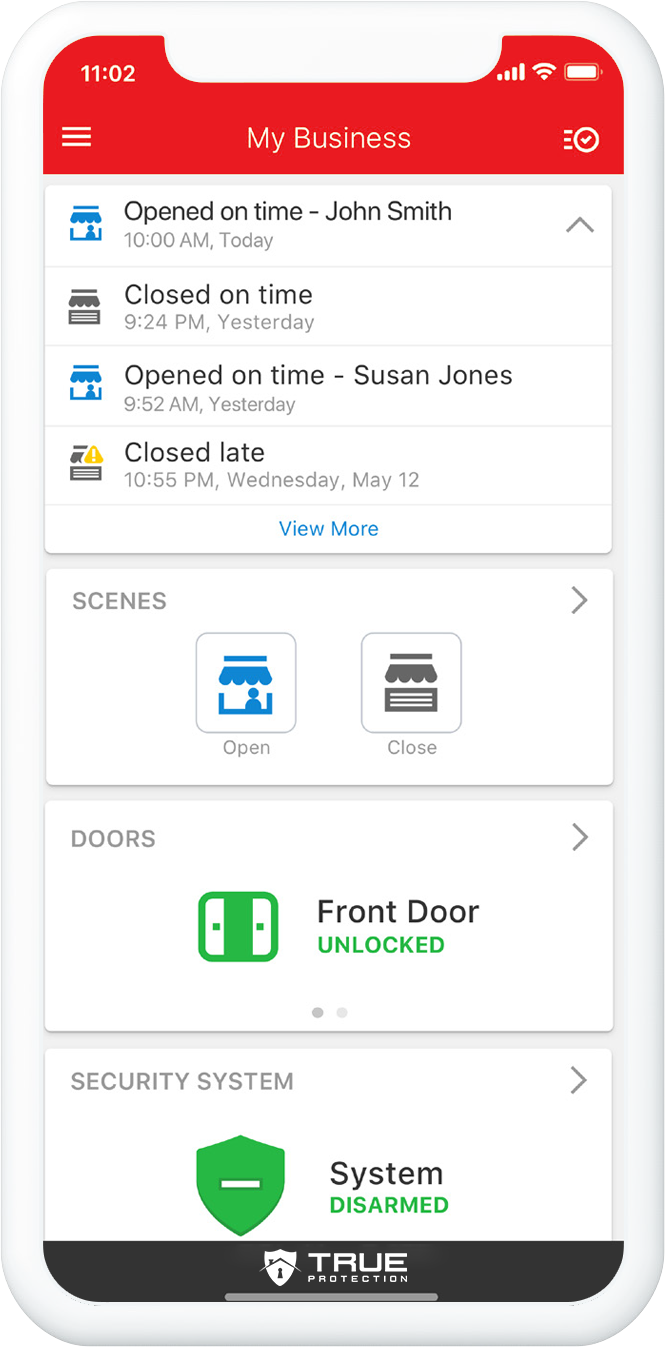 With 47% of food and beverage businesses utilizing on-site live video feeds and 36% remotely accessing live views via smartphone or tablet, it's clear that real-time surveillance is a key component of modern business management.
Parks Associates, Alarm.com Medium and Large Commercial Business Survey 2021
Business Security & Surveillance Installations in Texas
Our highly skilled and licensed technicians in Texas are experts in tailoring security systems specifically for small businesses. We work closely with you, taking into account your unique security requirements, budget constraints, and business timeline to devise an appropriate solution.
Typically, we can kick-start the installation within 1 to 2 business days post finalizing your personalized plan, the timeframe of course depending on the size of your business premises.
To get a free evaluation and quote for your small business in Texas, simply fill out the form below or give us a call. We are here to secure your business the right way.
Best Business Alarm Installations in Texas
Why Choose True?
No Hidden Fees

Price Matching Guarantee

Commercial Grade Equipment

Free On-Site Evaluation
A+ BBB Rating

UL-Certified Alarm Monitoring

Industry Leading Reporting

Limited Lifetime Warranty
$0 Activation Fees

Utilize Existing Equipment

Local Security Company

Award Winning Service