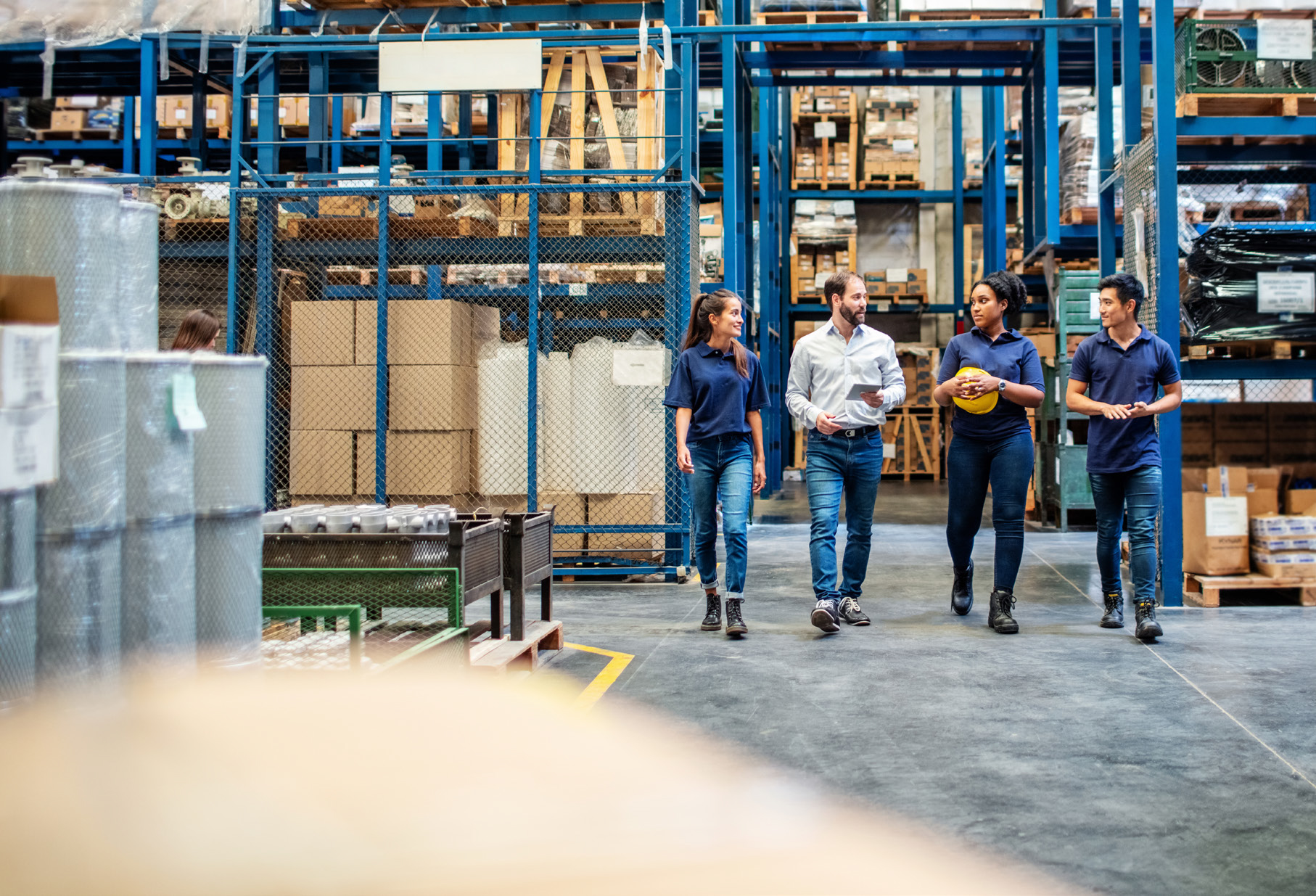 Connected Security Systems for Warehouses
In the logistics and warehousing industry, safeguarding goods, assets, and employees is of utmost importance. Smart alarm systems have emerged as a vital component of warehouse security, providing a range of features that not only ensure the protection of valuable inventory but also contribute to the overall efficiency of warehouse operations.
True Protection for Businesses has the latest technology to address operational and security challenges many industrial businesses face.
Maintaining Employee Safety
Oversee adherence to safety and health regulations, particularly when employees or delivery personnel operate near heavy machinery and storage shelves.
Enhancing Workforce Management
Ensure that employees arrive and depart punctually, exhibit proper conduct, and perform their tasks effectively.
Monitoring Deliveries and Service Providers
Stay informed about deliveries, cleaning staff, groundskeepers, and any other individuals accessing business premises.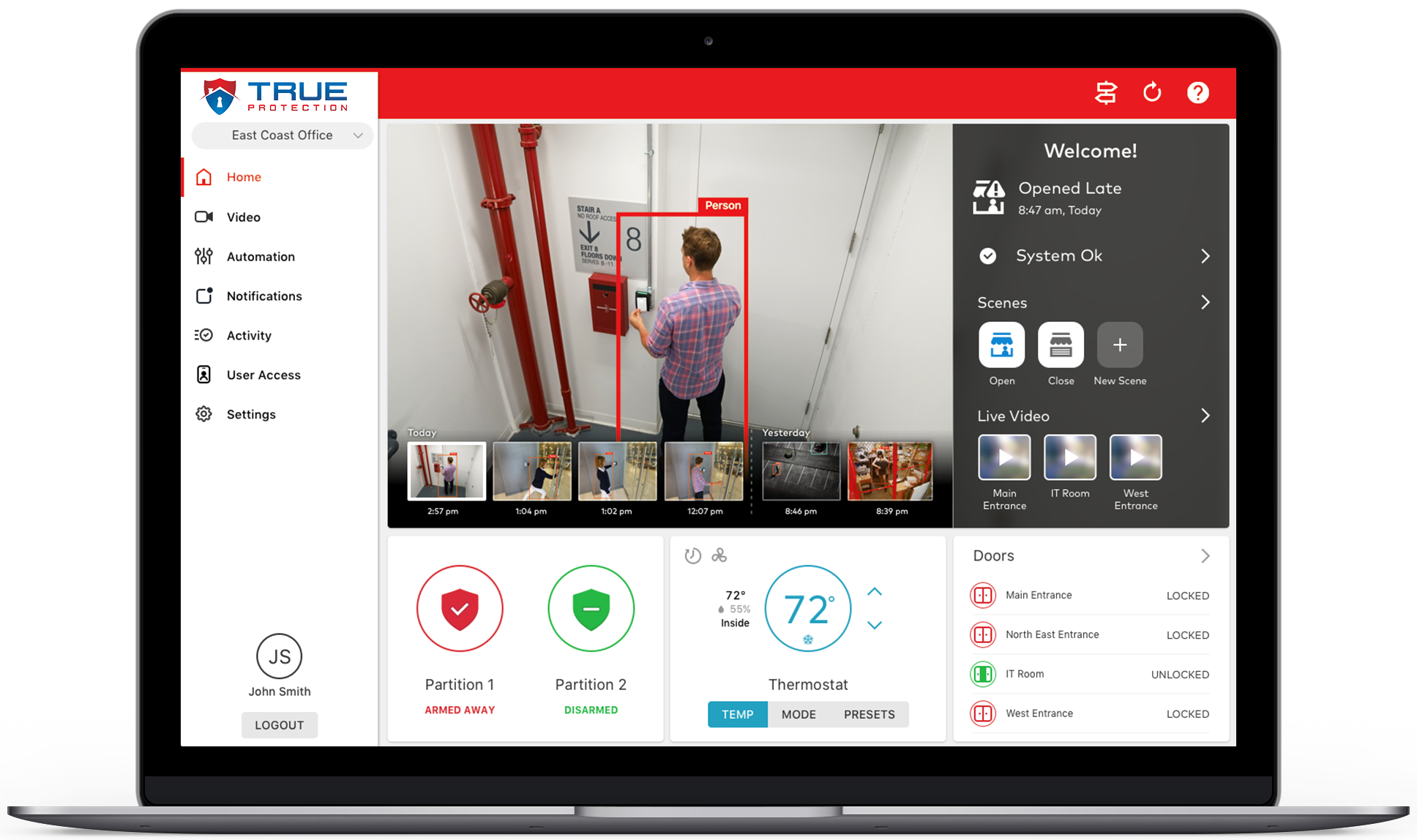 Employees come to work late or leave early about 7.5 times per year, costing industrial business roughly $1,500 annually.1
1 Parks Associates, Alarm.com Medium and Large Commercial Business Survey 2021
We Address Your Business Concerns
There are many external and internal security issues that your warehouse operations may face. True has a solution for all concerns surrounding your business.
Get protected with industry leading security, automation & service? Call now or fill out the form to get started.
Highest Quality Equipment
Industry Leading Equipment

5-Diamond Alarm Monitoring
Comprehensive Security Alarm Coverage
Smart alarm systems offer a complete security solution, addressing various aspects of warehouse security. They integrate access control, video surveillance, intrusion detection, and fire protection into one platform, allowing for seamless monitoring and control.
Centralizing all security functions in a single system enables warehouses to effectively manage their security measures and promptly respond to any incidents.
Warehouse Surveillance Systems
Modern smart alarm systems incorporate advanced video surveillance capabilities, allowing warehouses to monitor their premises in real-time. High-definition cameras and advanced analytics provide clear visuals and actionable insights, helping warehouse managers detect suspicious activity or assess employee productivity. Furthermore, video surveillance systems can be accessed remotely, allowing for constant oversight even when managers are offsite.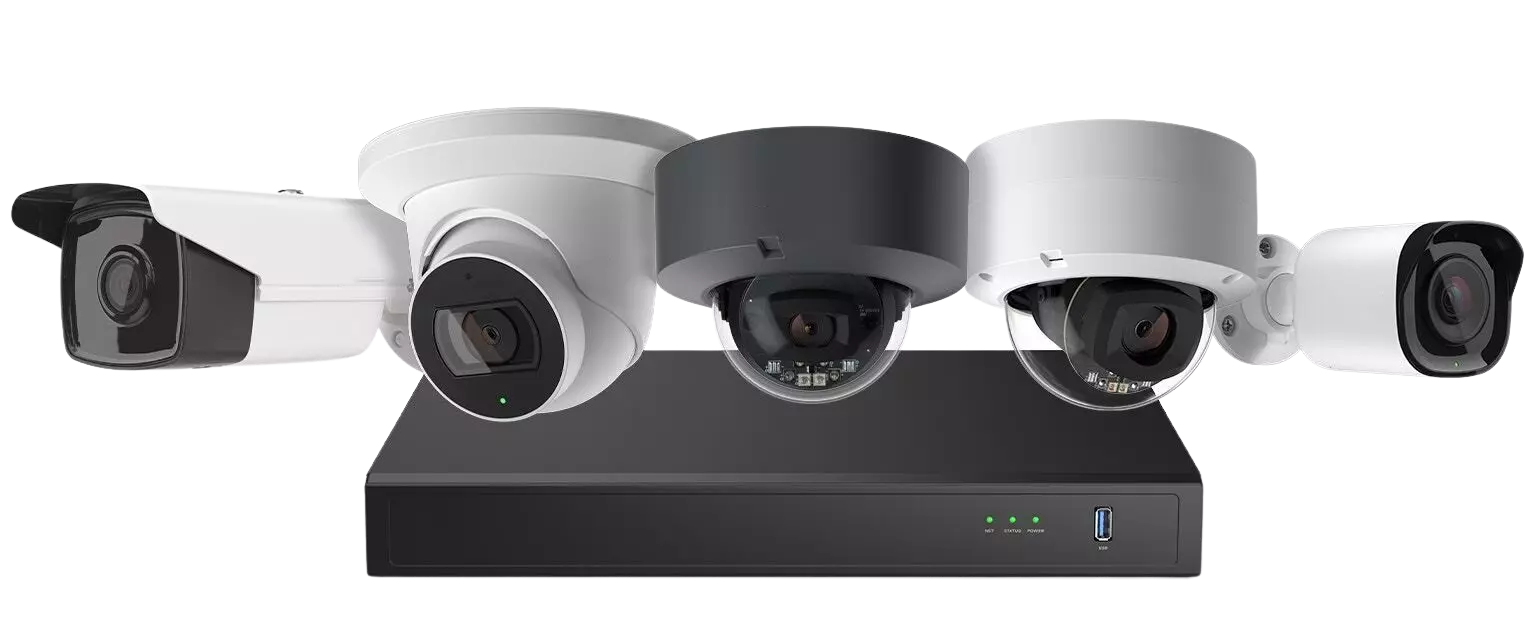 Access Control & Management Systems for Industrial Warehouses
Access control is a crucial feature of smart alarm systems in warehouses. It regulates entry to storage facilities, ensuring that only authorized personnel can access restricted areas. Access control measures can include key card systems, biometric scanners, or even smartphone-based authentication. These measures protect sensitive inventory and assets while offering customizable permissions for different employees or contractors.
Optimize Your Operations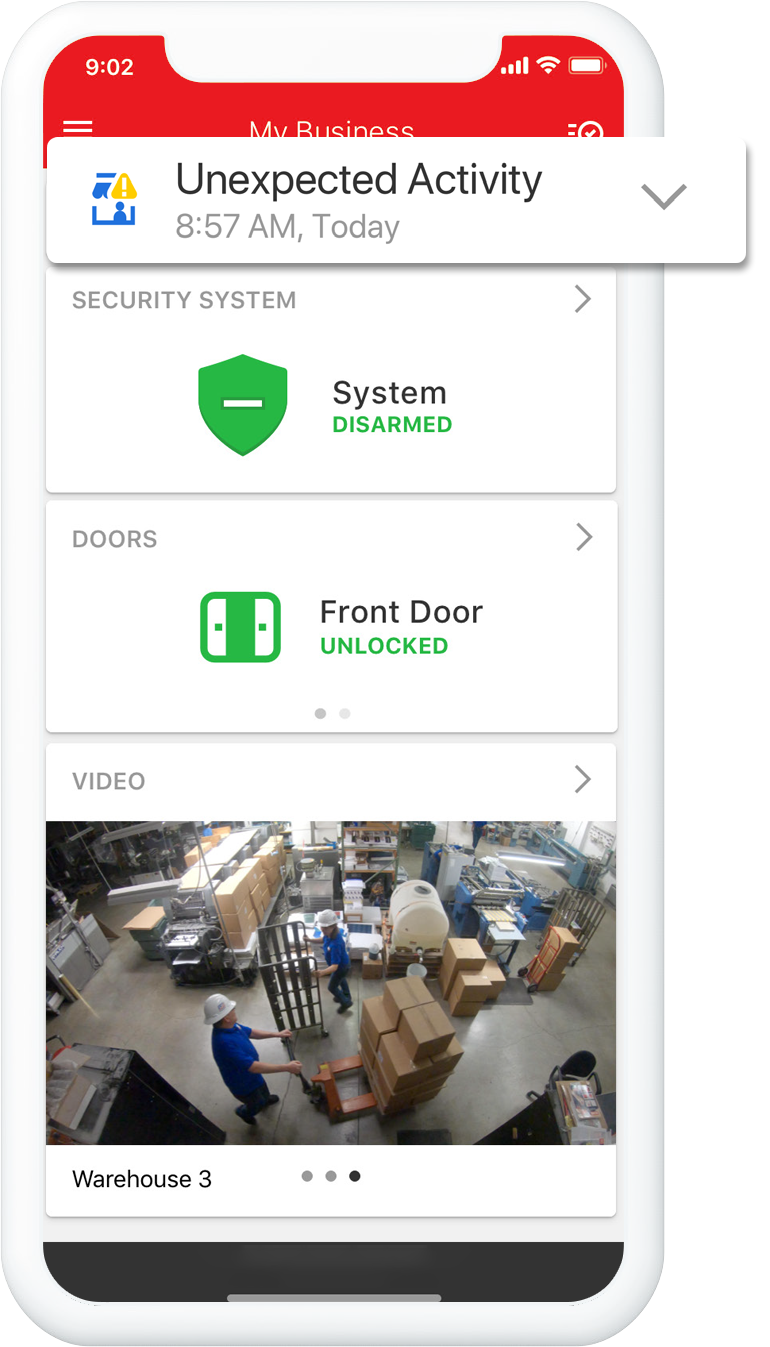 An All-In-One Solution
Monitor everything via a single, user-friendly interface with the Enterprise Dashboard, and access your warehouse footage from any location and at any time using the convenient mobile app.
You're in good company
Over 600,000 businesses trust our platform to safeguard their properties, personnel, inventory, and more.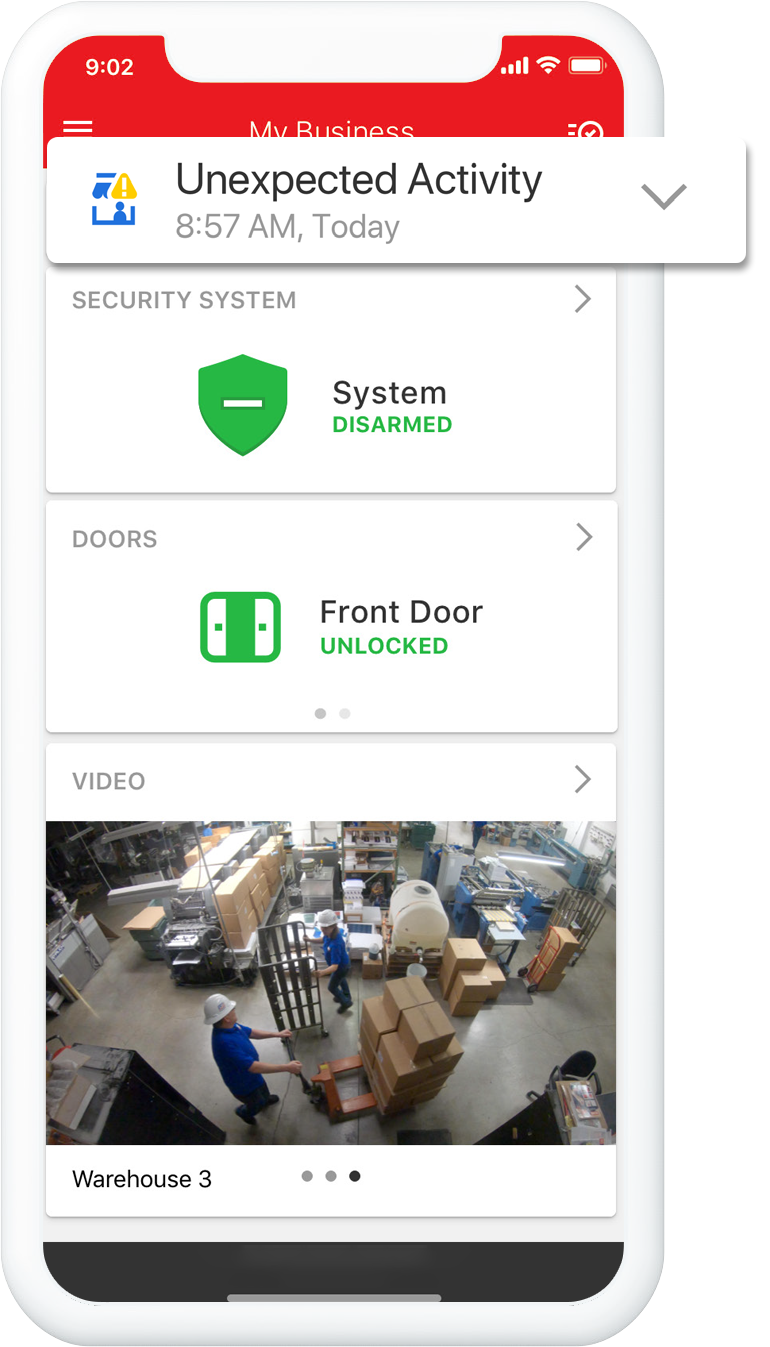 Approximately 65% of industrial businesses desire real-time alerts to highlight unanticipated activities.
Parks Associates, Alarm.com Medium and Large Commercial Business Survey 2021
Warehouse Security Installations in Texas
Our warehouse security installation process in Texas is designed to provide you with a seamless and efficient experience, ensuring your facility remains protected and secure. Our team of highly skilled, trained, and licensed technicians will first conduct a thorough on-site assessment to understand your unique security requirements. We'll then work closely with you to design a customized solution tailored to your specific needs, budget, and operational goals.
Once the plan is finalized, we'll promptly commence the installation, integrating advanced access control, video surveillance, intrusion detection, and fire protection systems to create a comprehensive security network for your warehouse.
The installation duration depends on the size of the warehouse space, but we typically can start within 1 to 2 business days after finalizing your custom plan.
Complete the form below or contact us to receive your free evaluation and quote in Texas.
Best Business Alarm Installations in Texas
Why Choose True?
No Hidden Fees

Price Matching Guarantee

Commercial Grade Equipment

Free On-Site Evaluation
A+ BBB Rating

UL-Certified Alarm Monitoring

Industry Leading Reporting

Limited Lifetime Warranty
$0 Activation Fees

Utilize Existing Equipment

Local Security Company

Award Winning Service