Enterprise Security
Keeping data, information, and infrastructure safe and secure should be a top concern for all business owners. However, larger companies and enterprises have a number of extra things to deal with when it comes to security, especially if they have multiple office sites spanning an expansive area. For these businesses, enterprise security is essential.
Enterprise security is an intentional way to protect, detect, and prevent multi-site company infrastructure and other elements. There are different types of enterprise security solutions, yet they all focus on conceptual security and physical security. Due to the constant flow of data shared and flowing from system to system, it's essential for large companies to get a handle on security and find a means of protection. These businesses need security for both their physical locations and their extensive collected information.
True Protection offers enterprise security for your organization. It's our goal to protect everyone and everything, with the most innovative security solutions. We offer both enterprise physical security and conceptual enterprise security architecture.
Enterprise Physical Security
Physical security systems are essential for the protection of any business. These include alarm systems, fences, access control systems, security guards, and video surveillance systems. Enterprise organizations with multiple physical locations require a detailed, complex security plan with custom factors for each unique area.
Your True Protection team will perform a comprehensive security audit to help build your custom physical security plan. Multi-site organizations will need innovative technology to ensure detailed and effective security solutions.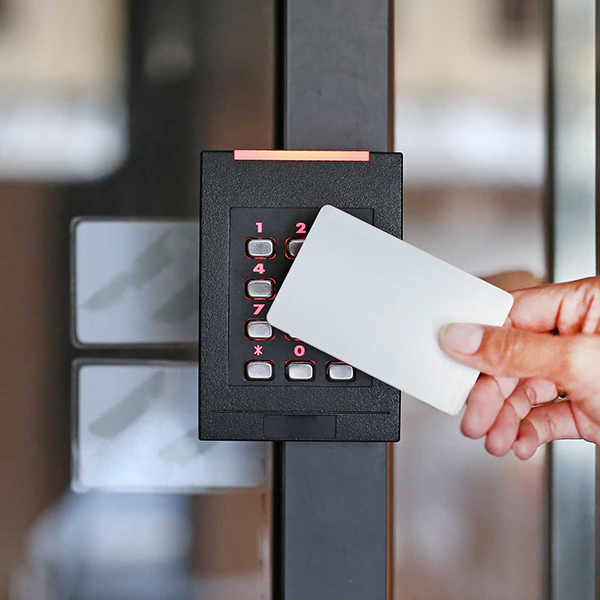 Enterprise Security Access Control
Physical security plans require access control systems for the protection of all types of business assets. Access control systems control people's ability to access the physical location, including key cards, approved users, and door locking mechanisms.
There are a variety of access control systems, so each business will need to determine the best one for their needs. This depends on various things such as costs, hidden fees, maintenance needs, and the size of the enterprise.
Many organizations opt for on-site access control, however they can be difficult and costly to take care of and upgrade. True Protection helps with Cloud-based access control systems, ensuring ease of use and care, without on-site systems.
Access Control Software Security
Any access control software used by an enterprise should have extensive security features and should streamline system management. The more access points and users that a location has, the more important it is to have simplified, easy-to-use, and secure access control software.
Software should include tracking of activity and usage, data reporting, a simple rules editor, and granular permissions that enable administrators to set custom permissions for specific users.
Why You Should Use a Cloud-Based Access Control System
Cloud-based systems are an effective and innovative way to manage and access the incredibly high amount of information in the system of a multi-site organization. Instead of spending the time and money to hire an in-house access administrator, use a cloud-based system that streamlines the access process securely.
The simplification of access with a cloud-based system includes remote access to add or remove permissions, remote door management, security through cloud-based encryption, and over-the-air data sending. The system also cuts in-person security costs and creates a central security process for all locations.
Conceptual Security Architecture
Aside from physical security measures, every multi-site organization needs conceptual security that includes data protection. All businesses can use cybersecurity measures that protect on-site data. However, multi-site organizations share data and information across a variety of users, networks, and servers. To keep this data secure, conceptual enterprise security architecture should be used.
Understanding Compliance and Data Protection with Enterprise Security Systems
Overall, enterprise businesses gather and store a great deal of private data, including financial information and personal details. The business is responsible for safely storing this information and ensuring it isn't stolen or used in the wrong way.
When implementing a data protection plan or software, businesses must adhere to any compliance regulations. Security compliance will likely include HIPAA, PCI, and SOC reports. Businesses should review any essential methods for documentation, collecting data, and storage to ensure they meet compliance standards.
True Protection conceptual security software is designed to meet all compliance regulations in order to keep your data safe and protected.
Encryption
Another level of security measures that should be used by enterprises is encryption. With encryption, data is protected in the case of a data breach. It is an extra level of security that uses encrypted communications among anyone connected to the system.
Encryption is important because it allows for uncompromised communication and sharing between users and servers. With regular data breaches becoming more and more prevalent, storing encrypted information is essential.
Automation and Balance
Enterprise security should encompass both physical and conceptual areas. They should work in conjunction with one another to ensure a smooth and seamless process for building the security of a business. The balance between both types of security is important, as it keeps the overall business and its data safe.
Smart technology that utilizes automation is an important step in the security of an enterprise. This means that systems can automate process and security measures for both physical and conceptual systems.
By using a cloud-based access control system from True Protection, businesses can integrate with other platforms, combining all management tools into one easy-to-use system. This streamlines the various processes of the business while simultaneously ensuring security.
Access Control and Video Surveillance
Every business needs physical security components that allow them to constantly take a look into their location. The most effective form of visual security is the combination of video surveillance and access control. This partnership gives businesses a visual into their business along with insights and up-to-date information that can actually help stop a physical breach.
Building Management with Automation
When all enterprise security systems are integrated into one seamless platform, the security of an enterprise can be easily managed as well as effectively protected. With one automated access control platform, an enterprise can connect and streamline alarm systems, data protection, safety resources, and more, making things simple and secure.
Tips for Effective Enterprise Security
Enterprise security is quite detailed and complex, however, it can be established easily with the help of a professional security company such as True Protection. We work with enterprises to implement effective security measures that also enable business growth.
Here are some tips for enterprise security:
Identify weaknesses and areas of non-compliance with a security audit.
Use enterprise specific access control.
Make sure to meet compliance regulations.
Use data protection and encryption.
Streamline processes with automation.
Ensure the entire team knows security measures and what to do in case of a data breach.