Keeping Your Holiday Packages Safe on Delivery
Ordering your holiday gifts online is one of the most convenient ways to shop. However, they don't always arrive when you're home. It's common for packages to sit on front porches in plain view of the street. Theft becomes an easy opportunity at this point. Discover the simple steps that you can take to ensure safe packages upon holiday delivery. Home security has never been so easy to install and to afford.
1. Keep up With Delivery Schedules
Maintain safe packages by knowing when they'll be delivered. Some households have multiple shipments on their way. In fact, it's not unusual for one home to have a delivery person at the door several times each week. Set yourself reminders about the delivery days. Try to have someone home if possible. If you can't be at your Houston home each day, ask a neighbor to look out for the delivery. Many neighborhoods rely on friendly courtesies such as these. There won't be any reason for packages to disappear with good neighbors and other home security measures in place.
2. Install a Video Doorbell
Smart home security may be the answer to your package concerns. Consider a video doorbell installation at your home. These devices are basic doorbells but with audio-and-video capabilities. The Alarm.com Skybell, for example, gives you a clear view of your front porch when it detects motion. You'll know when the package arrives and if it stays put. A video doorbell camera notifies you through your smartphone when there's motion activity in its view. Watch and record anything that you feel is important, especially if anyone trespasses on your Texas property. You can install them yourself or contact True Protection for a professional consultation. These devices are some of the simplest and most affordable choices for home security.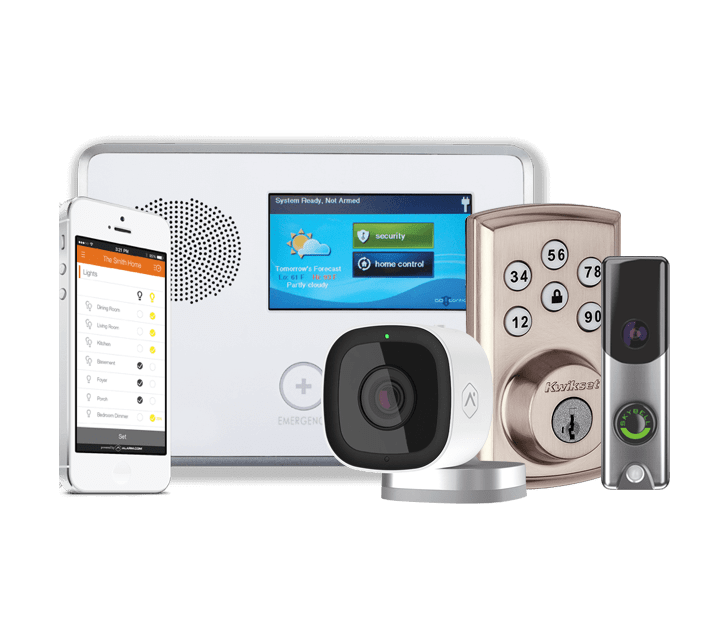 3. Consider a Smart Lock
A step up from a video doorbell camera is the smart lock. Install this lock on your front door so that you can control the entryway from your smartphone or tablet. When a delivery person arrives, you can remotely unlock the door. The person puts the package inside the home and closes the door. You lock the door again. All of this action takes place with an Internet connection at home and on your smart device. It's even possible to watch all of this activity from your video doorbell camera too. Watch the delivery occur and verify that the lock is back into position. You have a choice of speaking to the person through the doorbell as well. No one can take the packages when you have complete control of who enters and leaves the property.
4. Ship to an Alternate Location
Today's shipping options are vast. You might be confident about your home security monitoring, but you want to go a step further. Think about shipping to a locker that's often a selection with certain companies. The package arrives at a locker where only you can unlock it with an emailed code. An old-fashioned option is requesting a post-office hold. Almost every neighborhood has these holds where you sign up online. Pick the dates that you'd like to stop your mail and deliveries. They'll be securely held at the post office. Pick them up at your leisure. The post office usually requires a form of identification in order to release the items. You have safe packages at all times with this strategy.
5. Try Smart Lighting
If you don't have security cameras, you can give the appearance of an alarm system by adding smart lighting. These lights can illuminate your porch during both the day and night. They're often very bright, which deters people from walking onto your property in the first place. Most people equate exterior lights with home security cameras, so they don't try to take those holiday packages. Point the lights onto your front porch so that they spotlight the area. Keep in mind that the packages shouldn't be left indefinitely on the porch with the lights activated. You should still pick them up as quickly as possible.
6. Upgrade to a Camera System
With prices becoming more affordable, upgrading to home security cameras is an intelligent way to have safe packages with holiday delivery. Most systems have wireless and Wi-Fi connectivity so that professional installation can be done quickly. Set it up so that you can see almost every angle of your property. These types of alarm systems notify you when anyone is around or on the property with motion detection. You'll know when the packages arrive so that you can pick them up. It's not unusual for a delivery person to leave the packages outside a gate or even farther from your front door. If this scenario occurs, you can immediately rectify it by grabbing the packages before someone else does.
7. Make the Home a Busy Place
Use psychology to ward off a theft of those holiday packages. Give your home a lived-in appearance. Turn on a radio and add smart plugs to your appliances. If the home sounds busy, such as cooking a meal or listening to the television, there are fewer chances of those packages being taken. Home security systems offer you peace of mind, but creating a busy home is a clever way to enhance protection. You can remotely turn on all these items by using an associated app. Smart plugs give you the ability to power on any item, from a blender to a desk lamp. Use today's technology to tell any strangers that you're home and ready to grab those delivered packages.
8. Try Away Modes
Some might view the movie "Home Alone" as silly when the boy fakes people being home inside, but did you know Alexa can be programmed to play pre-recorded conversations when you are away? Our home security systems come with a hub that can perform several tasks and automation. For example, record a video or conversation for playback later on. Control the playback with a timer or just random times through an attached app. These conversations should be played within the home at a normal volume so that they're believable. Anyone walking up to your front door will think twice about trespassing because of the conversation. Most people are looking for easy theft, and dealing with the residents isn't part of the plan.
9. Avoid Advertising Your Plans
A 21st-century issue that's often not connected to package theft is social-media posts. If you tell your followers that you're going on vacation, that information can be shared. It's almost impossible to know where this information might end up. Try a later post, which tells everyone that you went on vacation and show off those photos. No one will know that you left, which allows your packages to remain untouched. They should still be picked up or held, however, because piled up items at the front door are instant notifications that you aren't home.
10. Set Those Timers
Use timers throughout your property through your home alarm system and the Alarm.com app. Add timers to your irrigation system so that the lawn is watered throughout the week. Try timers on lights, appliances, and other noisy items. It's ideal to choose random times for those timers to activate. Some thefts are based on watching the home for a few days. If the lights click on at the same time each day, people catch on that you aren't home. Use random times to keep safe packages waiting as you return home each night.
Call our local office for a FREE quote today at 832-786-8284. True Protection in Houston, Texas, dedicates our team's efforts to your security and comfort. Learn how our home security monitoring can serve your property's needs. Free installation and activation are possible when you reach out to our office right now.