Commercial & Enterprise Security Monitoring Systems
In the heart of Austin, where innovation and enterprise flourish, safeguarding your business is not just a priority—it's a necessity. At our cutting-edge facility in Austin, we specialize in providing comprehensive Austin commercial security systems tailored to meet the unique needs of your business.
We cover everything from enterprise alarm systems, access control, video surveillance, structured cabling, energy management and so much more. True is a local Austin business with decades of experience and award winning customer service. Our certified specialists have the knowledge & know how to make sure the commercial security solution we create is protects your business inside & out. You can be rest assured knowing that we follow all regulatory compliances, regulations, and licensing requirements.
Contact us today to discuss your needs and come up with a solution that gets delivered on time and on budget.
Austin Location – 1823 Fort View Rd Suite 206, Austin, TX 78704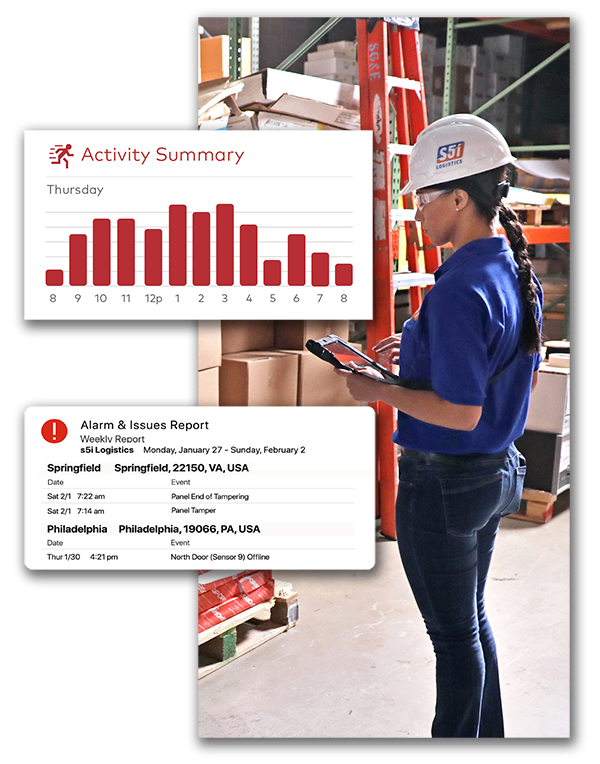 Commercial Alarms in Austin, TX
Our alarm systems are designed to be proactive in defense for your Austin-based business. With our state-of-the-art technology, we ensure your property is safeguarded around the clock. Whether you need intrusion detection or fire protection, our alarm systems are tailored to meet your specific security requirements. Detect unauthorized access and promptly respond to security breaches. Rest easy knowing that we actively monitor, respond, and protect what matters most to you.
Real-Time Monitoring: Multiple locations are monitored in real-time, simplifying security management.
Streamlined Management: Access controls, user codes, and system settings for all Austin locations are managed from a single, user-friendly interface.
Ongoing Security: Automatic software updates, secure encryption, and two-step verification ensure continued property safety.
Insightful Reports: Scheduled reports offer valuable insights into security statuses for all Austin properties.
Accurate and Real-time Operational Intelligence
Obtain vital multi-location data through daily, weekly, and monthly reports.
Receive instant alerts if employees aren't adhering to scheduled opening or closing times.
Stay informed and gather proof of any activity in sensitive or off-limits zones.
Utilize graphs showing peak business hours to guide staff scheduling and assess the effectiveness of promotional campaigns.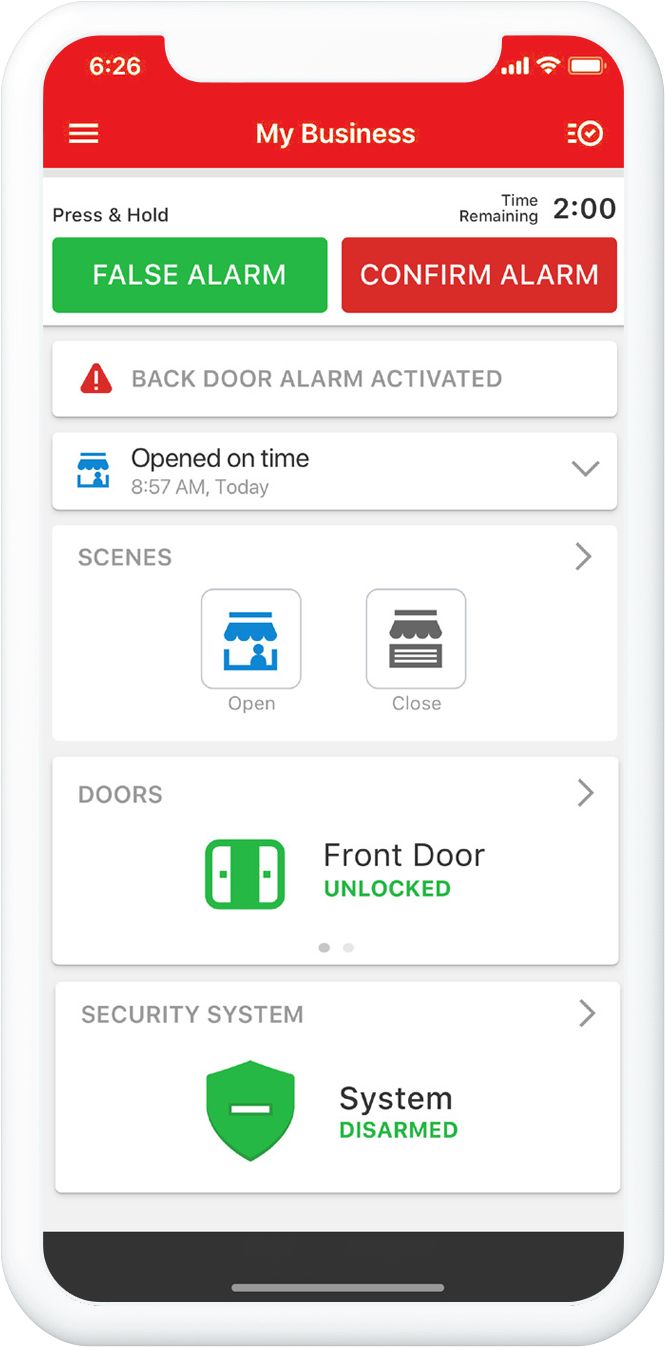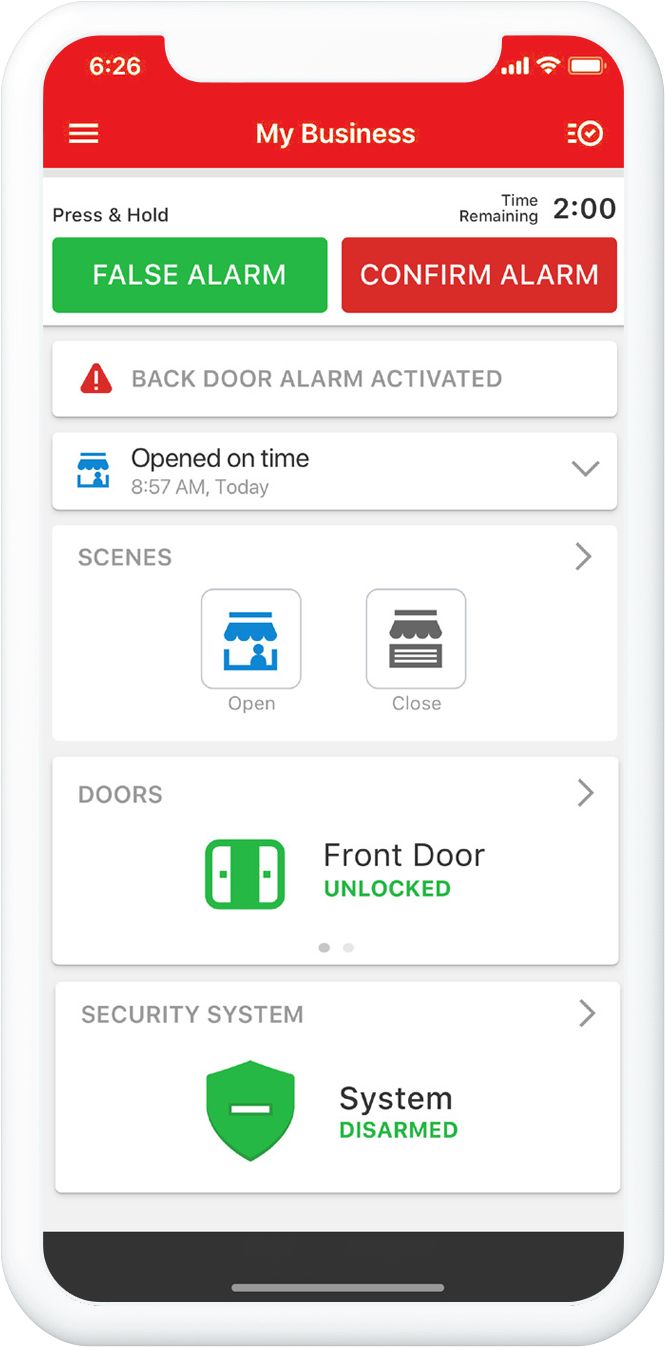 89% of business owners agree that integrating all their security features and making them accessible through one app is crucial.
Parks Associates, Alarm.com Medium and Large Commercial Business Survey 2021
CCTV & Video Surveillance
The growing business landscape in Austin requires proper surveillance. Our advanced security camera systems provide continuous monitoring of your property, deterring potential threats and ensuring rapid response to any incidents. With both on-site & cloud-based storage, access to crucial footage is always at your fingertips. A.I. powered intelligent detection enhances security by identifying relevant activities and notifies you immediately.
Continuous Recording: Crucial footage is captured with continuous on-site recording.
Secure Cloud-Based Storage: Videos of alarms and security system changes are securely stored in remote cloud servers.
Smart Analytics: A.I. powered video analytics identify individuals and vehicles entering Austinproperties while ignoring irrelevant movements.
Immediate Notifications: Unauthorized individuals or unexpected visitors during non-working hours trigger immediate notifications.
Continuous Camera Health Monitoring: Cameras are always operational with continuous real-time health monitoring.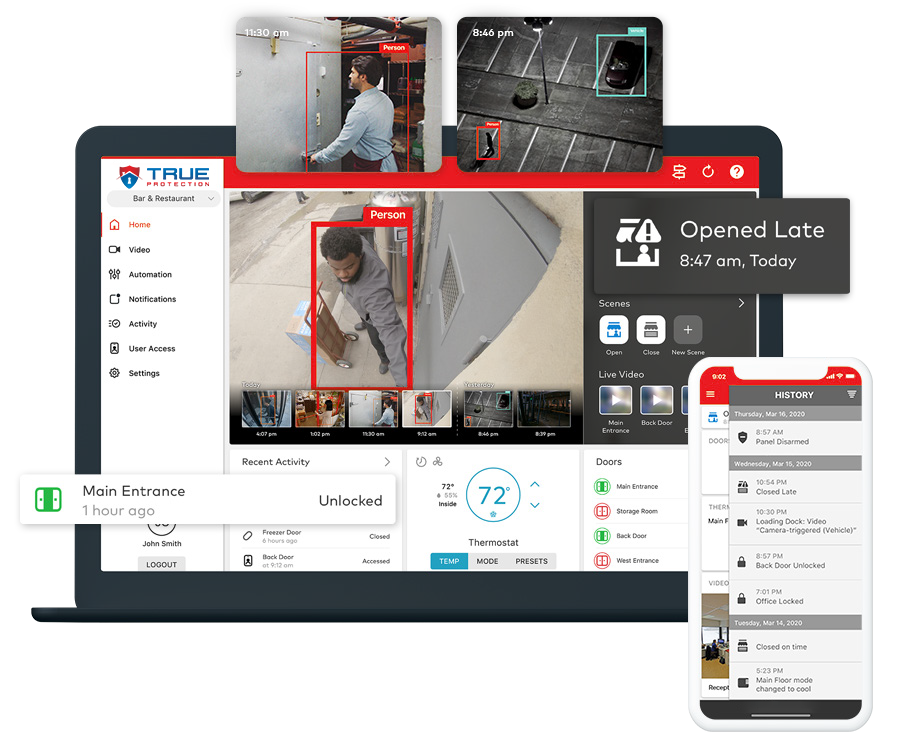 Powerful Video Analytics
By combining video surveillance with Artificial Intelligence (AI), several benefits are provided for Austin businesses:
Automated Anomaly Detection: AI identifies unusual activities by recognizing normal operational patterns.
Intelligent Video Analytics: AI algorithms analyze video feeds in real-time to extract valuable information.
Predictive Analysis: Historical video data is used to anticipate potential issues before they occur.
Efficient Resource Allocation: Monitoring processes are automated to free up human resources for more critical tasks.
Scalability: Vast amounts of video data from multiple cameras across different Austin locations are managed efficiently.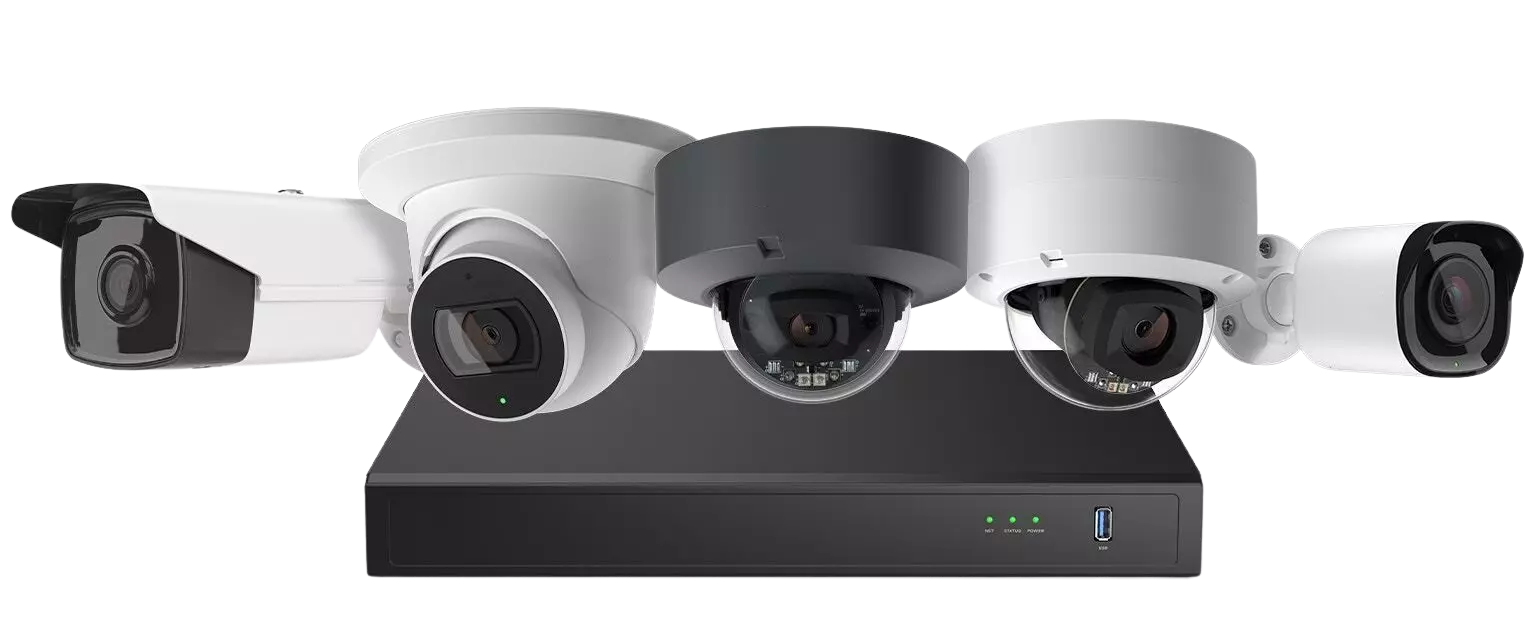 Get protected with industry leading security, automation & service? Call now or fill out the form to get started.
Highest Quality Equipment
Industry Leading Support

5-Diamond Alarm Monitoring
Access Control Systems
Access control stands at the forefront of safeguarding your Austin facility against unauthorized intrusion. Our advanced access control systems are meticulously designed to empower you with comprehensive control over who enters your premises.
With a diverse array of options ranging from key card access and biometric authentication to convenient mobile credentials, we offer tailored solutions that cater to your unique security needs. These cutting-edge systems enable you to actively manage and monitor access points, ensuring that only authorized personnel are granted entry. This not only enhances security but also streamlines the administrative processes associated with granting or revoking access permissions.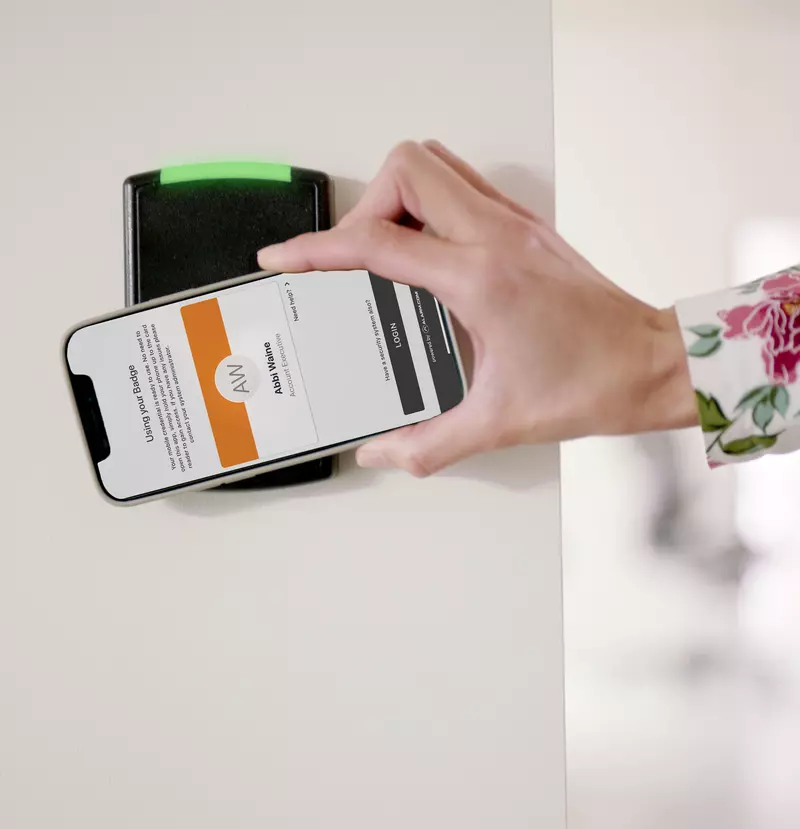 Employees come to work late or leave early about 7.5 times per year, costing industrial business roughly $1,500 annually.1
1 Parks Associates, Alarm.com Medium and Large Commercial Business Survey 2021
Easy to Use & Access
Smart access control systems are essential for Austin businesses, and cloud-based solutions are offered for easy maintenance. Key features include:
User-Friendly Interface: Access is managed effortlessly with our app or online dashboard.
Mobile Credentials: Users access Austin properties using their smartphones, saving time and money.
Remote Control: Doors are locked, unlocked, and opened remotely via the mobile app for convenience and flexibility.
Access History: Events and related video footage are available in the access history timeline for easy reference and review.
Business Energy Management Solutions
Efficiently managing energy consumption can help Austin businesses save thousands each year in overhead costs. Our energy management solutions empower you to actively control environmental functions with your phone. Adjust heating, air conditioning, and lighting remotely to reduce utility bills and minimize your carbon footprint. With real-time equipment monitoring, we ensure your business operates efficiently while preventing costly equipment malfunctions.
Efficiently managing energy consumption and equipment maintenance is crucial for Austin businesses. Solutions include:
Equipment Monitoring: Real-time alerts about equipment malfunctions, such as refrigerators, freezers, and HVAC systems, are received.
Environmental Control: Heating, air conditioning, lighting, and more can be adjusted remotely to reduce energy bills.
Commercial & Business Security System Installations in Austin
True Protection specializes in streamlined commercial security installations for your Austin business. Our expert team assesses your unique security needs, creating a personalized plan that aligns with your budget.
We seamlessly integrate top-tier systems like access control, video surveillance, intrusion detection and more. Typically, we can get started on the installation within 1-2 business days after finalizing your plan. All installations are backed with 24/7 complimentary support and warranties on our products. We promise to deliver on-time and on-budget.
For a free evaluation and quote in Austin, simply fill out the form below or contact us directly.
Popular Industries We Serve:
Best Commercial Alarm Company in Austin
Why Choose True?
No Hidden Fees

Price Matching Guarantee

Commercial Grade Equipment

Free On-Site Evaluation
A+ BBB Rating

UL-Certified Alarm Monitoring

Industry Leading Reporting

Limited Lifetime Warranty
$0 Activation Fees

Utilize Existing Equipment

Local Security Company

Award Winning Service
Select an Industry to Learn More
Find Out More About Our Business Solutions